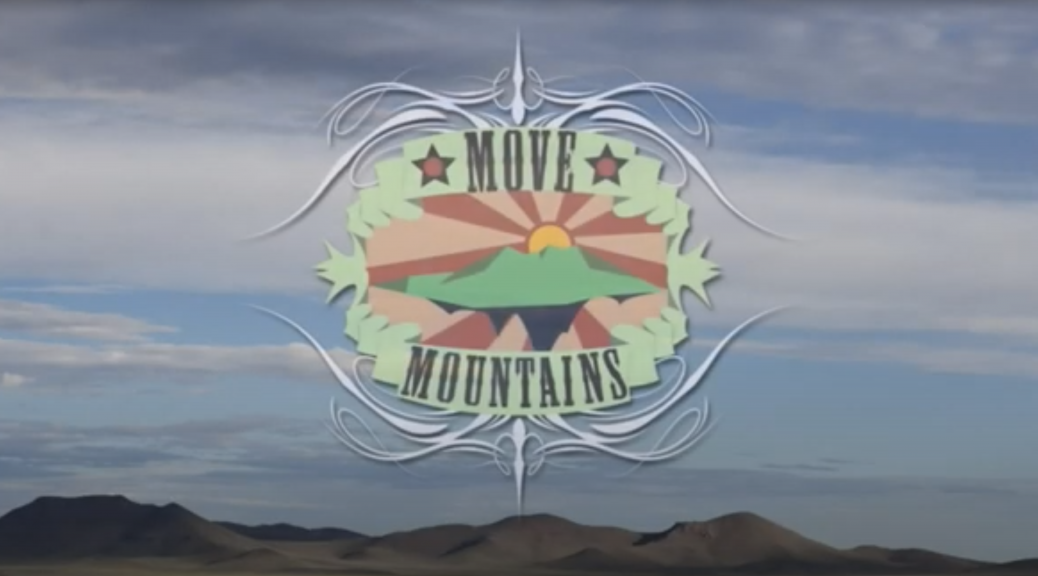 TIME TO MOVE MOUNTAINS: Youth Rising in San Luis Colorado
TIME TO MOVE MOUNTAINS: Youth Rising in San Luis Colorado
The Move Mountain Youth Group works towards building the next generation of community that cares about culture, history, traditions and the health of the Sangre de Cristo Land Grant, also known simply as "La Sierra." 
What is the secret to our success? We don't need to think outside the box. We let the youth take the lead. When youth feel empowered to say what they want and need, we get out of the way and let them make it happen.
This is the philosophy that we bring to the Manitos Community Memory Project as a model for community youth engagement. An example of our approach is reflected in a video, produced by the media company EnLightofMe and 2MX2, a bilingual hip-hop group, from Denver, Colorado. This video matters because it was widely distributed locally in the San Luis Valley as well as around the world via social media. The video highlights the voices of young people from San Luis and the surrounding Culebra Villages, the challenges they face and the resilience of their spirit. It places Move Mountains, as a youth movement, in the historical context of the Land Grant Movement and the Chicano Movement.
The music video and song have great significance to the youth involved in its production because it gave them a platform and they witnessed and participated in the entire process of media creation. It also highlights the development of the talent of Samuel Ozuna, who was challenged in the first year, as a sixth grader, by 2MX2 to come up with a song. When he delivered, they followed through and assisted him with the song production and brought the project to the Move Mountains Youth Leaders to create a full music video. This video and song became a major point of pride for Move Mountains, Centennial School District and the community of San Luis, CO. An anthem of strength, pride and resilience.
This process created a safe space and showed the youth that they are creative, capable of collaborating and can produce meaningful media that captures their voice and places them in a wider struggle for social justice. They talked and sang about LOVING being from here. Samuel highlighted a pride for living in the Culebra Villages that most folks do not express. He poignantly identifies what makes living and being from here special. Most especially, the process of making this video gave Samuel the encouragement to continue learning and creating music, which he still does today as he prepares to graduate from high school. Following the production and release of this video we have seen a marked shift in youth attitudes towards their communities. That is the power of media! What Is Move Mountains Youth Project?
Move Mountains Youth Project Inc, is in its seventh year of programming and its youth leaders are recruited from Centennial School District in San Luis, CO. We seek to give our youth "roots and wings" to amplify the voices of the youth leaders because we identify the root causes of these needs as directly connected to the systemic oppression and sis-empowerment of Indigenous and Chicano/Mexicano populations in America.
Historic oppression has led to generational poverty. Loss of land has created an inability for individuals and families to sustain themselves, and this results in economic instability. Lack of access to the land also brings on food and housing insecurities. Due to issues such as but not limited to English-Only curricula, mass incarnation, the school to prison pipeline and the generational trauma related to colonization and the destruction of Indigenous cultures, the youth of San Luis have systematically been dis-empowered.
The lack of young mentors in their community and the deletion of their personal histories from the curricula they are taught in schools, along with the lack of access to many necessary tools and skills result in many issues for youth leaders contributes to daily struggles for the youth. As they work to speak up about what they see and connect their experiences to the larger narratives in the rural Chicano Movement, the Land Grant Movement and to the larger global social justice movements of people of color, they work to develop ways to overcome their own barriers and deepen their knowledge about the issues.
We strongly believe and have witnessed the building of community and cultural pride. We also understand that by creating this video, we are assisting in the achieving of our own histories.
Move Mountains San Luis Project 2015
Move Mountains Youth Project San Luis Colorado 2016
https://www.youtube.com/watch?v=EpYOmrnYQAQMove Mountains Project San Luis 2017
Shirley Romero Otero, Executive Director, Move Mountains Youth Project Inc., San Luis, CO
Miguel Huerta, Lsw, Metro State College, Denver, CO, Move Mountains Youth Project Inc.