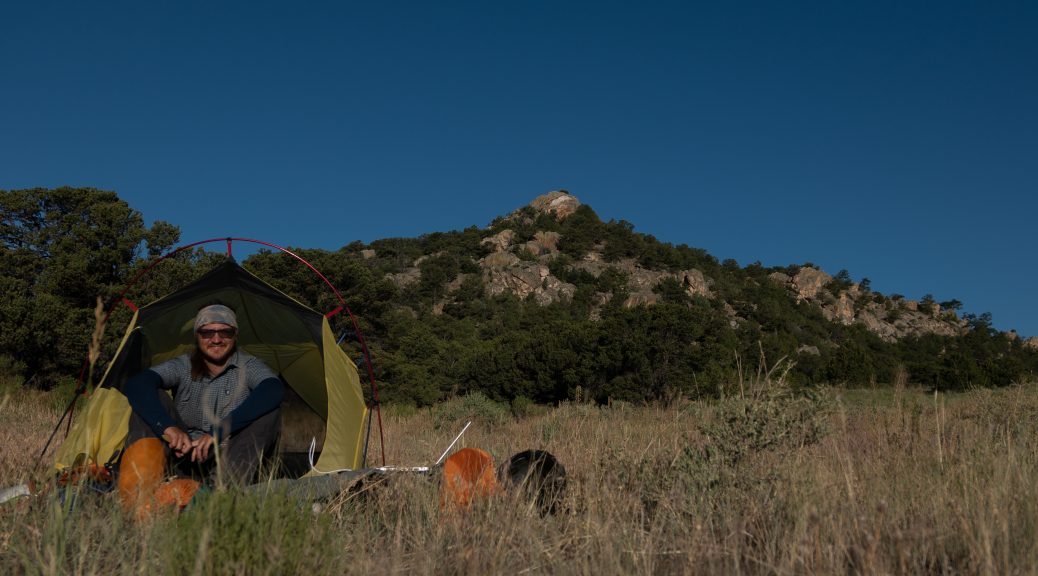 Seiscientas Millas Manitas – Project Update 2020
Seiscientas Millas Manitas – Project Update 2020
I ended up only doing 500 miles through Manito country last summer, rather than the planned six. I started from Santa Fe and went as far north as El Alto del Cañón (Gardner), Colorado. Along the way I worked with people in the Nuevomexicano communities of Cuyamungué, El Embudo (Dixon), Peñasco, Chamisal, Placita, Llano Quemado, Ranchos de Taos, Los Córdovas, Arroyo Seco, San Antonio (Valdez), Costilla, Amalia, and El Ventero; as well as the Coloradense communities of Colonias de San Pablo (by La Valley), Fort Garland and El Alto del Cañón. This work resulted in the collection of more than 400 place-names which were previously unmapped or which appear on government maps in an altered form. You can download a .kml file here which can be opened in Google Earth to show the results of this and previous fieldwork on a 3D projection of the area.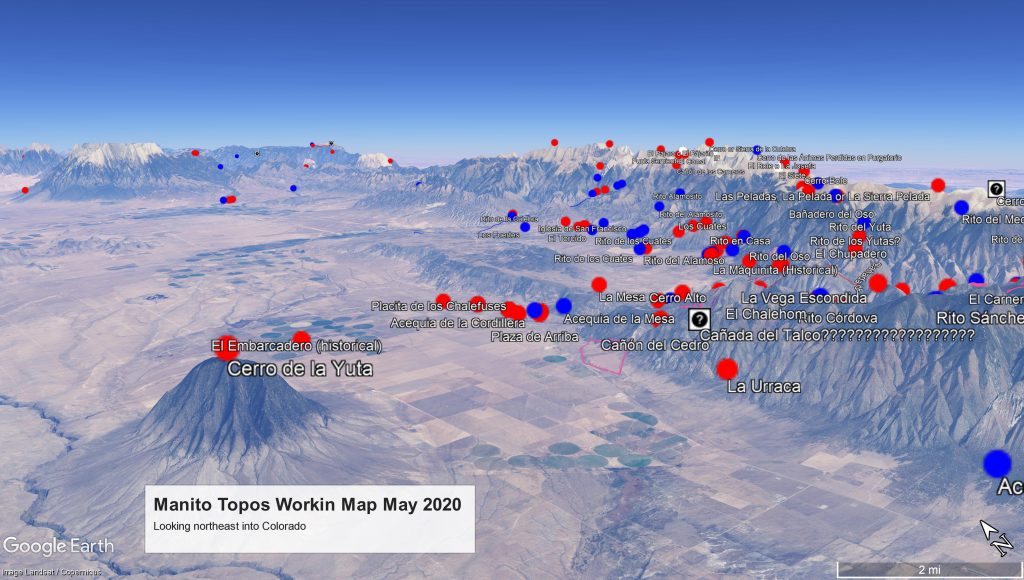 I had hoped to be able to get on my bike again right about now and continue learning Manito geographies out in the field. Instead I've been working on consolidating last year's findings into topographic maps and interpretive glosses. I'll be posting those on this digital resolana in the coming weeks and months, starting with four maps showing the area around Amalia and El Ventero that I shared in a 'working map' in my previous post here. Today's maps are based on the Amalia and Big Costilla Peak quads by the US Geological Survey and the Latir Peak and Comanche Point quads published by the Forest Service. They've been edited to show the Manito place-names used in Costilla, Amalia and El Ventero. The accompanying glossary is in its initial stages, being mostly limited to providing an English translation and a classification of what happened to the traditional names on government maps. Between all four maps, only two place-names were represented with their traditional form left fully intact (Rito Claro and Valle Vidal), two more appeared as full English translations (Midnight Creek from Rito de la Medianoche and Heart Lake from Laguna del Corazón), 18 were partially translated to English, and 48 were previously unmapped. The maps contain a further 40 names published partially or fully in English for which I have not been able to find a Spanish antecedent.
Amalia y El Ventero, a Manito Topo
La Sierra Pelada, a Manito Topo
Las Nueve Lagunas, a Manito Topo
Glossary for Amalia, Sierra Pelada, las Nueve Lagunas and el Comanche
Do you have stories about the places shown on these maps? Do you know why they received their names? Do you know of any named places that I'm missing? Are you knowledgeable about this type of information in another area of northern Nuevo México or southern Colorado? If so, I would love to work with you. Please contact me at lenbeke@unm.edu or call 505-218 6108 and we can set up a virtual meeting. If you are interested in seeing more of this work, you can join www.facebook.com/manitotopos/.
---
Featured Image: Camped outside Los Crestones (Red Wing, CO) on my way to document the Manito geography of the Río Huérfano basin. (Len Nils Beke)