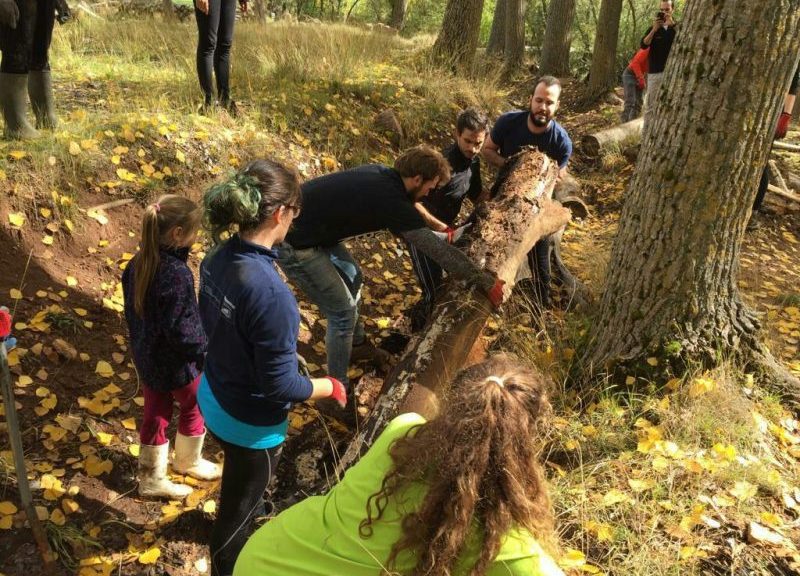 Crowdsourcing Togetherness
Crowdsourcing Togetherness
Over time, there are many reasons why manitas and manitos have moved away from the villages of northern New Mexico, often reluctantly. Yet many have retained a strong sense of connection to their places of origin. In many cases this sense has been passed down through generations. Recently, closed Facebook groups have become meeting places where members who live in the diaspora are reconnecting with each other and with people who live in the villages. Together they are piecing back together their shared histories, kinship ties, and culture.
Currently Facebook groups exist for Costilla and Amalia, Questa, Cerro, Penasco, and Abiquiu. Through crowdsourcing—enlisting the participation of a large number of people to share information—members of these groups have become quite adept at creating the collective knowledge that we call community memory.
---
One such effort, sparked in a post by Dr. Estevan Rael-Gálvez in the 'Families of Costilla and Amalia New Mexico' Facebook group and taken up by Julie Santistevan Segura, Sandie Segura Wesolowski and Pauline Rivera; is the community memory of respected and beloved midwife, Georgina West.

Mrs. West, "Ma West" as she was fondly known or simply "La West," lived in Jaroso, CO in the northern part of the manitas and manitos homeland and delivered babies throughout the region. Although not a manita herself, it is estimated that Georgina guided more than 1,500 manitos and manitas babies into the world, starting in the 1930s through some time in the 1960s.
So how does community memory build from the faintest glimmer in someone's misty remembrances into a body of knowledge that can anchor the collective? It might go a little something like this:
On December 6, 2017, in the 'Families of Costilla and Amalia' Facebook group, Dr. Rael-Gálvez made the first Georgina West post:
The 154 Comment thread that followed is filled with warm and proud testaments to "Mamma West", her mad midwifery skills and her services to the manitas and manitos community. A list starts to develop in the comment section, almost of its own accord. Pauline Rivera and Dr. Rael-Gálvez issue a friendly speculative challenge.
The challenge is taken up by Julie Segura, who, ten days later, made her own post.
That post seemed to really get the ball rolling, followed by additional posts in other community Facebook groups by Sandie Wesolowski and Pauline Rivera, asking people for personal knowledge of Ma West-assisted births. The response was enthusiastic, so they set up a special email address, where people could send their information directly.
As the list started to grow, Ms. Rivera ran a front page feature in La Voz, a bilingual newspaper she publishes, raising the visibility of the project beyond the closed world of the Facebook groups.
What started as a short comment in a Facebook comment thread, the Georgina West birth record project promises to be a significant feature of the 2019 Costilla/Amalia Community Reunion scheduled for July 6-7, 2019, where many of the children she delivered, now adults, can celebrate the woman that binds them together.
This is how community memory is strengthened and preserved.
But what happens, once the event is concluded?
---
A goal of the Manitos Community Memory Project is to ensure that our communities have a way to preserve the hard work of community memory-keepers like Ms. Rivera, Ms. Wesolowski, Ms. Segura and Dr. Rael-Gálvez. A community archive where, once gathered, these memory projects can be accessed by community members and scholars and built upon, retaining an open and vital dialogue with our heritage and the people whom that heritage binds us to, whether through blood or common experiences. Experiences like being brought into the world by the same hands.
As The Manitos Community Memory Project works to develop a technical and professional framework that can support the creation of community archives, it is important that these archives be shaped by the needs and desires of the communities to which they belong. Manitos Digital Resolana will soon debut a community forum, where community memory topics can be discussed and project ideas, like the Georgina West birth record, can be incubated.
We would very much like to know what features might help you build community archives that work for you.
Watch this space for word on the opening of the forums, and invite your friends and neighbors to join the conversation.
---
Featured Image: 'El Domingo 21 de octubre de 2018 comenzaron las jornadas de conservación de las acequias del Fardes', Contenidos publicados bajo licencia Creative Commons 4.0