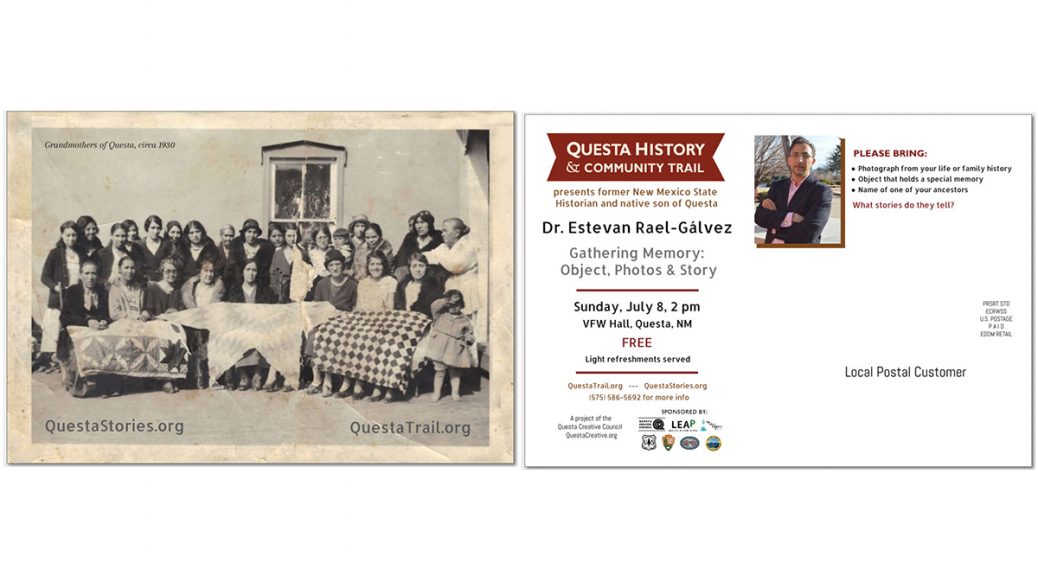 Gathering Memory: Object, Photos, and Story
Gathering Memory: Object, Photos, and Story
Event overview: The general public and community members, from La Lama to Amalia and beyond, were invited to a community workshop: Gathering Memory: Object, Photos, and Story, on Sunday, July 8, 2018, at the Questa VFW Hall. The event was organized and hosted through a partnership between Questa History Trail (a project of Questa Creative Council) and Questa Stories (a program of LEAP and Localogy).
The workshop was announced, and the public was invited, by mail, through online platforms, radio and newspaper. On the afternoon of the event, the VFW parking lot in Questa filled to overflowing and over one hundred people filled the seats in semi-circle rows. They brought their stories along with important objects; photos, shoes, record books, lamps, quilts, knives, love letters.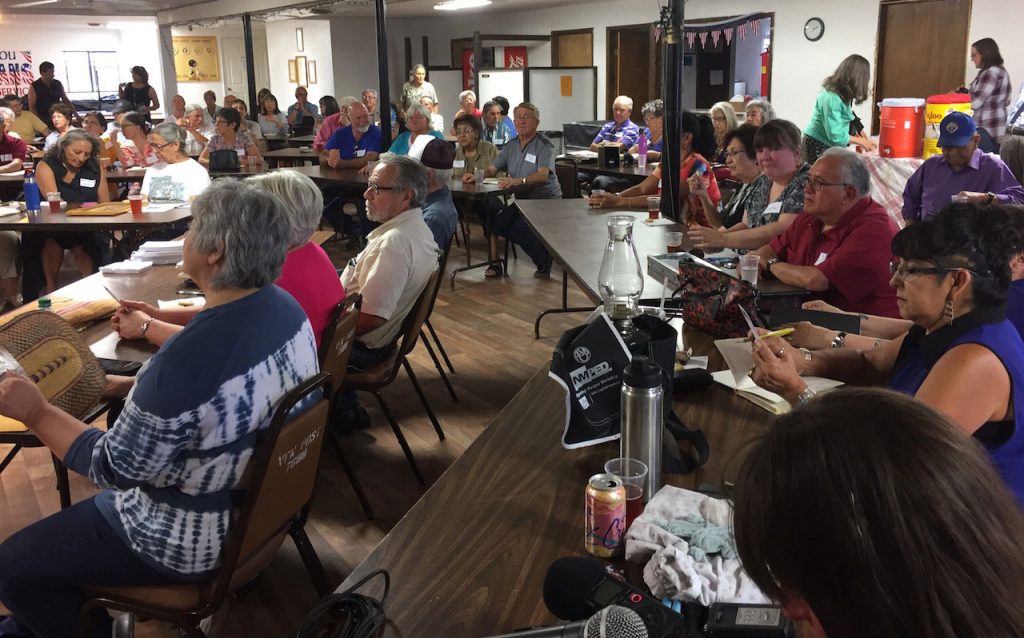 Dr. Estevan Rael-Gálvez, director of the Manitos Community Memory Project and native son of Questa, led the event, inviting participants to share their special object and their memory of a person, place, or moment. He asked that people share the name of one ancestor whose life held special meaning to them. The guiding idea is that storytelling and sharing engages and strengthens a community's sense of itself, and that we all hold important pieces of history; community members are community historians.
What we noticed: People from Questa and nearby communities were familiar with Dr. Estevan Rael-Gálvez, and his reputation, or familial connections, brought many to the event. Some people had previous experiences with Dr. Estevan Rael-Gálvez's work, community outreach, or knew him because he grew up in the community.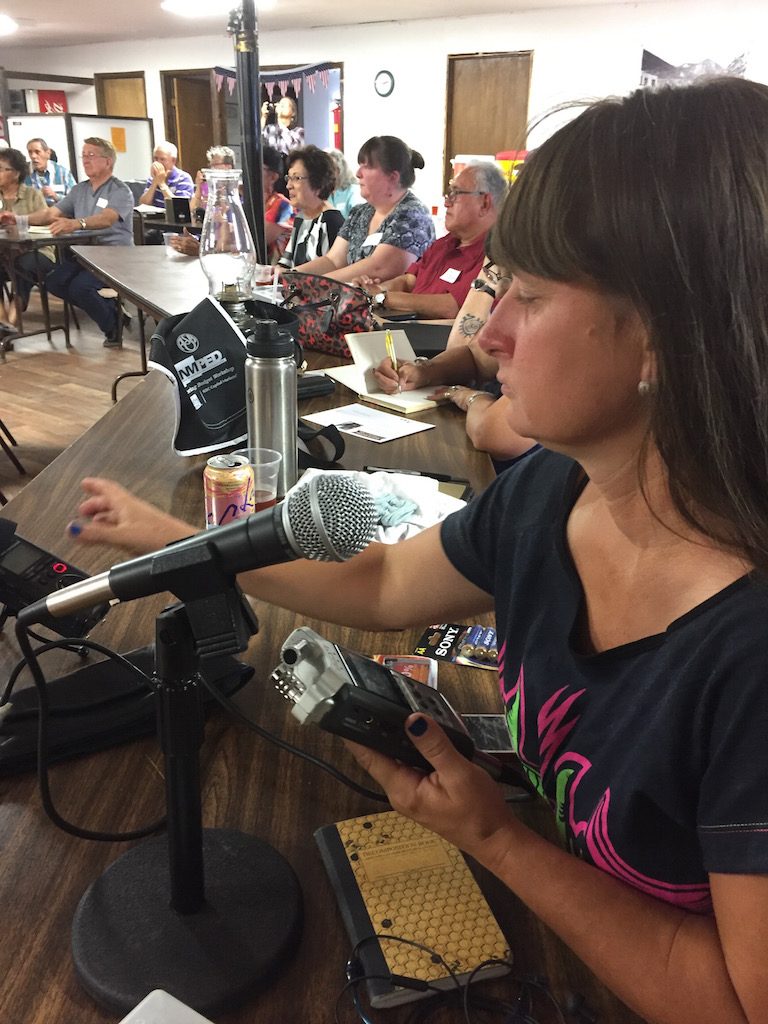 Questa Stories' main role at the event was documentation; people readily spoke about their ancestors and their history. We did our best to capture the stories as audio files and to take photographs of people and the objects they shared. We had a scanner, which was kept busy with items people brought, scanning and labeling photos, letters, and more. We asked people to sign release forms and explained, as best we could at the time, why we were documenting their stories and objects and where the digital files might end up. This event took place before the Manitos Community Memory Project was formalized and before the New Mexico Digital Heritage site was created. There was a positive response to the event and we were overwhelmed by the quantity of data.
For more images and reflections on the event, see this post: https://questastories.org/2019/02/06/gathering-memories-2018/
Outcomes and Archive Links:
This is an example of Object Stories, one of the four methods of memory gathering outlined in the Mellon grant. Twenty Object Stories were recorded and accompanying photos taken of the object and storyteller. Twenty three photos brought to share at the event were scanned. Upload is in progress at this collection (item set) from the event: http://nmdigitalheritage.org/s/manitos/item-set/165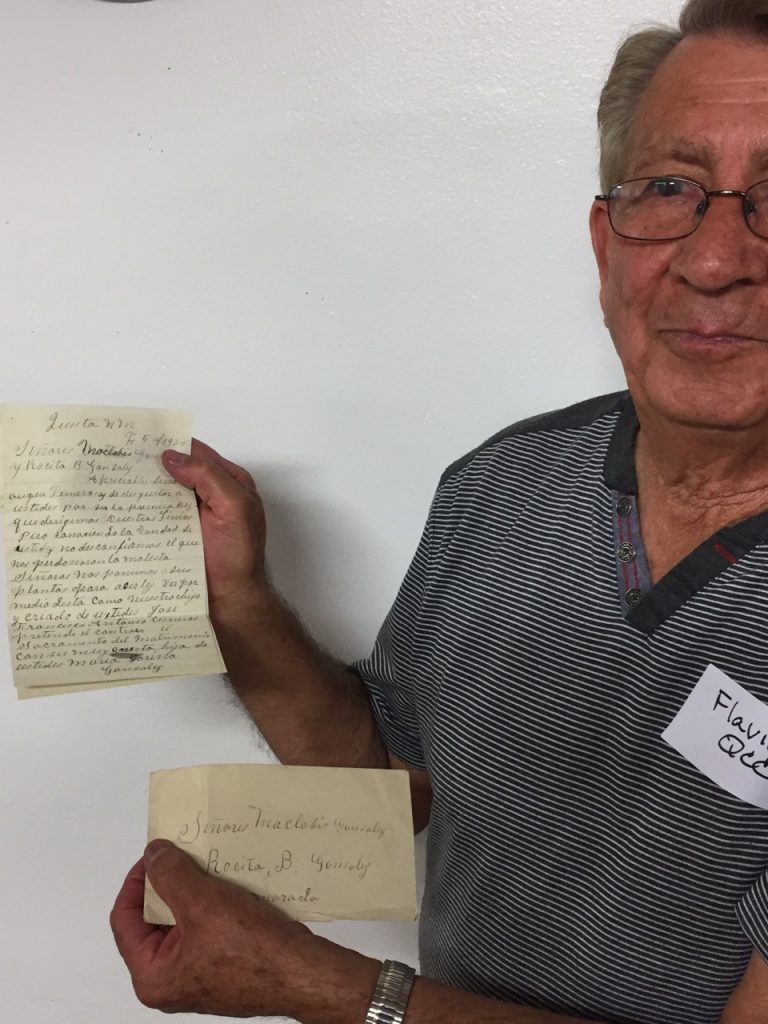 More images here: http://nmdigitalheritage.org/s/manitos/item/233

Listen to Flavio sharing this very special matrimonial letter:
http://nmdigitalheritage.org/s/manitos/media/202
Additional scans and information about Flavio's letters can be seen here: https://questastories.org/2019/12/02/flavio-shares-matrimonial-letter/
What we learned: Becoming proficient as a community archivist to upload content to the NMDigitalHeritage.org archive (via the Omeka platform) requires a steep learning curve and sincere dedication. It has taken us at Questa Stories (Claire Coté, Gaea McGahee and Sarah Parker) longer than expected to become familiar with the workflow and uploading process. Even now, with some working knowledge of the platform, it takes a while to input the metadata for each item and upload the media (more time if it is a larger file). Group learning sessions and workshops offered through the Manitos grant have been helpful, as well as personal tutorials with people who have more experience with Omeka.
Internet speed in rural villages is variable. In the Questa area, only some locations – businesses and residences – have been connected to high speed internet via fiber optics, but even for those that have, the upload speed is still quite slow. When scanning images, plan ahead – know the internet speed where you will be uploading. TIFF scans made at higher resolution (600, and especially 1200, DPI) may take a long time to upload or may not upload at all. The same is true for audio files. See Blog post #2 – Interview with Kate Cisneros, Organizer Notes for more on this topic. (Link to published post referenced)