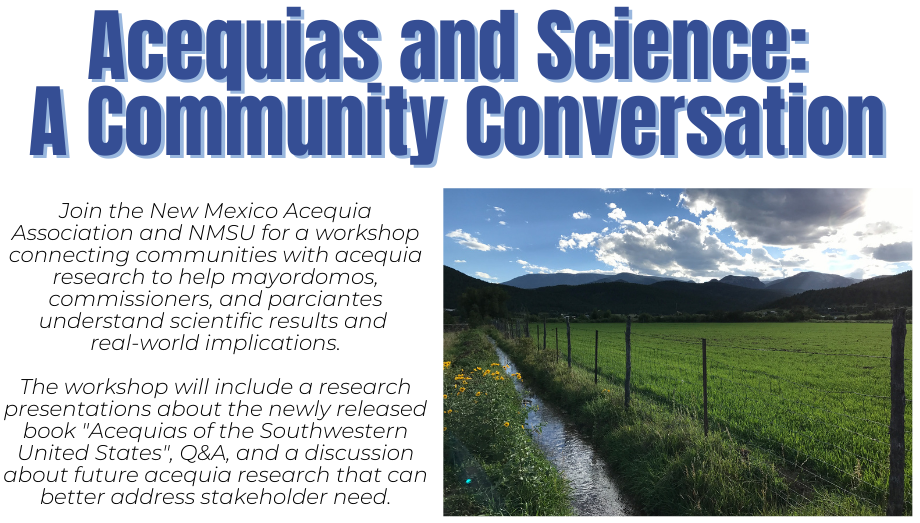 Zoom Workshop: "Acequias and Science: A Community Conversation" Thursday, January 14, 2020, 6pm MT
Zoom Workshop: "Acequias and Science: A Community Conversation" Thursday, January 14, 2020, 6pm MT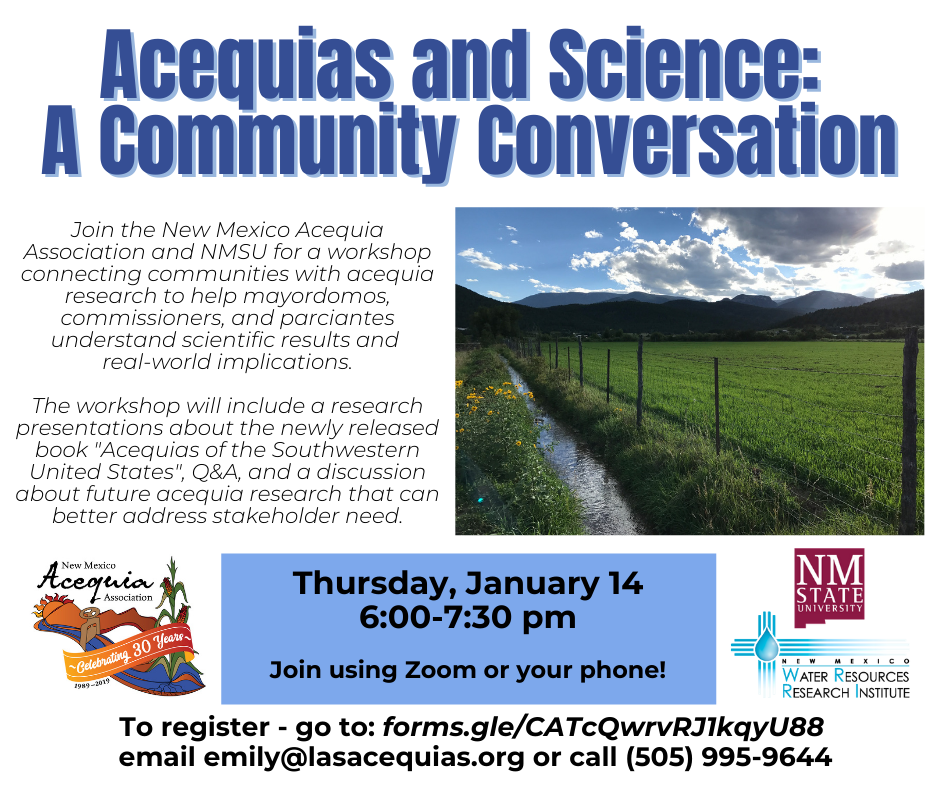 Event Information and Registration
Thursday, January 14th from 6:00-7:30 MT
New Mexico State University and New Mexico Acequia Association will be co-hosting the workshop "Acequias and Science: A Community Conversation" via Zoom or phone.
To Register:
https://docs.google.com/forms/d/e/1FAIpQLSdrHXP3FItqNgg1355JTMhZ4mVtfAcBNR67FwnjMB7KDkvnSw/viewform
This workshop will connect communities with acequia research to help mayordomos, commissioners, and parciantes understand scientific results and real-world implications. Co-author/researchers from NMSU, UNM, and Sandia Labs will discuss acequias in terms of hydrology, sociology, anthropology, range science, system dynamics, and more.
Including question and answer sessions and a community-oriented discussion about future acequia research potentials.
The event will bring together the co-author/researchers of the newly published Acequias of the Southwestern United States: Elements of Resilience in a Coupled Natural Human System.
Facebook Event Page: https://www.facebook.com/events/399415351485964
---
Background of the Project
In 2010 under the leadership of Principal Investigator Sam Fernald, the research project, Acequia Water Systems Linking Culture and Nature: Integrated Analysis of Community Resilience to Climate and Land Use Changes, was awarded a $1.4 million grant by the National Science Foundation (NSF). NSF's specific grant program, Dynamics of Coupled Natural and Human Systems (CNH), "supports interdisciplinary research that examines human and natural system processes and the complex interactions among human and natural systems at diverse scales."
The goals of the Acequia Water Systems Linking Culture and Nature project were to understand the links between culture and nature in the context of acequias. The central hypothesis was that acequias create and maintain the relationships between humans and nature that will allow for resilience in the face of climate change and increasing population growth. In addition, community members, mainly those from underrepresented groups in rural Hispanic minority communities, were integrated into the research itself. Overall, the study provided entirely new insights into relationships between water management systems, communities, and landscapes.
From an ambitious list of project deliverables, Acequias of the Southwestern United States: Elements of Resilience in a Coupled Natural Human System was conceived in order to document the researchers' various findings and to bridge the chasm between the academic analysis of a subject(s) and its translation for the public. Itbrings together the traditions, ethics, data, and skills that many manitos hold within the collective, historical reservoir of acequia knowledge; it is an attempt to utilize science, both social and natural, to underscore what "modernity" may have considered "anecdotal." And with climate change and urban growth threatening acequia communities, our relationship with water becomes even more complex and deserves robust communal actions.
As Sam Fernald stated in a his chapter draft, "With dry years starting in 2002 and increasing water demands, it was more important than ever to have data on water, yet the hydrologic processes of acequias were stored primarily in the hearts and minds of los ancianos, the elderly. There were no data! It could be very difficult to take abuelita to the office of the state engineer in order to defend an acequia water right based on unquantified wisdom passed down through the ages. The ensuing group of projects highlighted in this [book] set out to provide the data, and in the process, these projects illuminated hydrologic and social functioning of the acequias as well as the key underpinning forces that keep a community together when faced with existential threats."
Many manitos may be shaking their heads right now, familiar with the dilemmas of providing data on ancient wisdom to prove what has been inscribed in the landscape for several hundreds of years.
Acequias of the Southwestern United States strives to provide useful information and access for all persons, not only those studying the ditch system from a bustling university library or pecking the keys from a staffer's laptop in our state's capitol but also those whose minds and hands and fortitude actually compose and give life to the acequia—the parciantes, mayordomos, comisionados, and the larger acequia community. The manitos of New Mexico and southern Colorado. In this sense, Acequias of the Southwestern United States expands knowledge and research into the commons like its treasured subject, our resilient acequias.