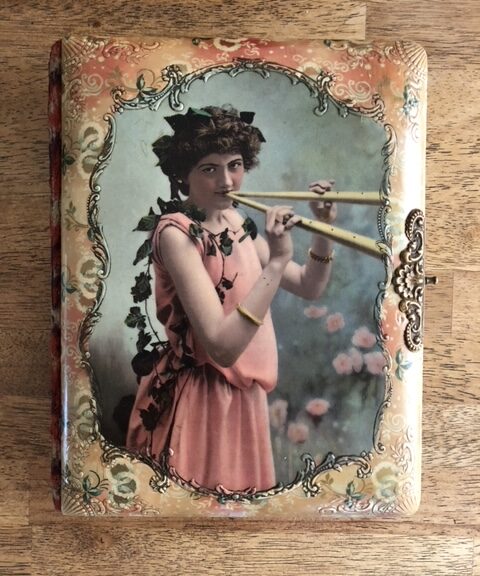 Regalo: The Book of My Ancestors
Regalo: The Book of My Ancestors
As a small child about 7 years old I remember my grandmother Martha inheriting a beautiful old photo album shortly after the passing of her father Abe. I remember my grandmother bringing the album home, setting it on the table, dimming the kitchen light and stressing that we had to look through it quickly to preserve the photos. I remember asking my grandmother who the people in the photos were and her response, "old people," followed by a chuckle, "they are our relatives." After that night the album went into a bag inside of my grandmother's closet where it sat unopened for the last 25 years.
Based on an inscription on the first page of the album, I know it has been in our family for about 100 years. It was originally gifted to my great great grandparents Pedro "Pete" Valdez and Cecilia Lucero in the early 1900's from Epimenia Cordoba, Pete's great grand uncle's wife. When Pete and Cecilia passed away about 1960's their son Abe, my great grandfather, took possession of the album and when Abe passed away in 1997 the album was given to my grandmother Martha. The families this album belonged to were ranchers and sheepherders with deep roots in New Mexico and the San Luis Valley.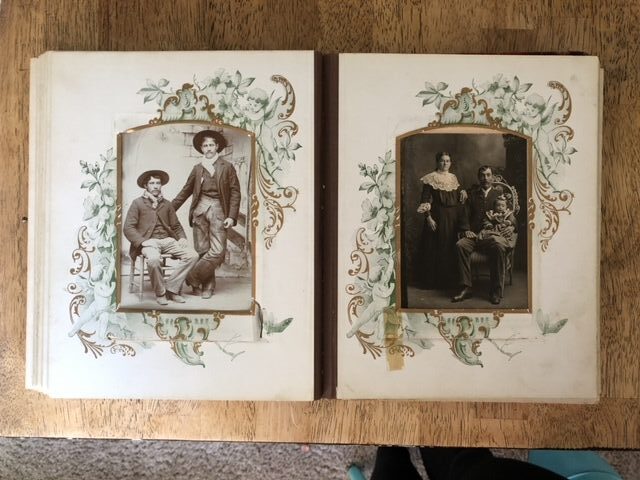 I took possession of the photo album when I took an interest in our family history and genealogy. It felt surreal to see and physically hold the album in my hands after all those years. The cover of the album shows a woman wearing a pink dress, adorned with a garland of leaves, playing a double flute in what appears to be a meadow of flowers. The back of the album has a carpet like texture and has a unique pattern of colors. The binding inside is in poor condition, with lots of wear and tear to the individual pages. Several of the photos are severely faded, but overall in great condition.
I was hoping the album would provide me with valuable information such as names and dates of my ancestors. Instead, the album provided me with 28 remarkable original card stock photos with no names or dates. My feeling of excitement turned into disappointment as I studied the photos. I couldn't help but wonder who these people were, what's their story, and why they are in this album. I contemplated giving the album back to my grandmother. If she couldn't identify the people in the photos, I definitely didn't stand a chance.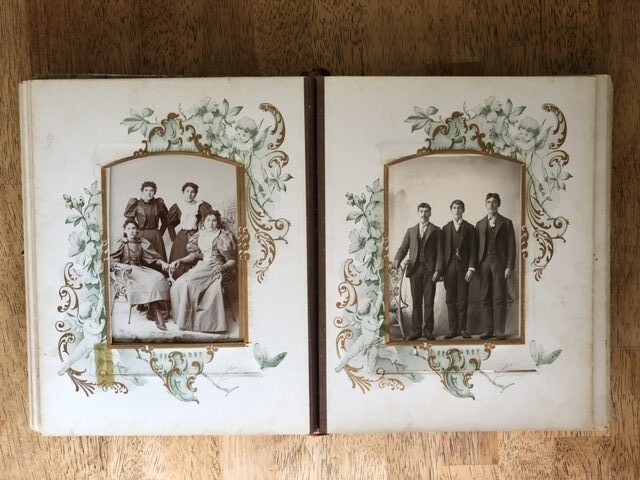 After talking with my grandmother she had given me some phone numbers and encouraged me to reach out to our relatives. I was hesitant but figured it was worth a try. I began reaching out to relatives, young and old and to my surprise everyone was very receptive and willing to meet with me. Over the last few years, with the help from relatives, we have been able to identify several individuals and or families in the photos. Individuals and or families that belong to Lobato, Lucero, Cohn and Valdez surnames.
The album gave me more than I could have ever imagined something more valuable than names and dates. I met new relatives, reconnected with old relatives, and learned about my ancestors through their stories, memories, pictures, and belongings. Artifacts like this album capture a moment in time, each one tells a story, a portal that connects us to each other and our ancestors. To some these are memories, to others these are stories. The Manitos Community Memory Project has created a way to preserve and keep the memory of our ancestors and culture alive. A place where we can come together to reflect, and reminisce about past, present and future.