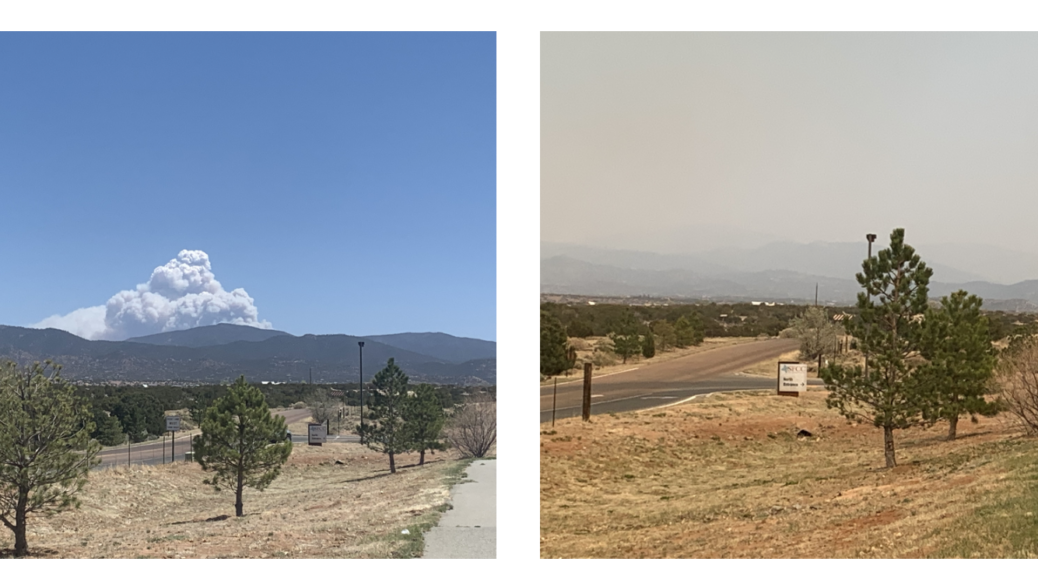 From the Project Director: The Fires in New Mexico
From the Project Director: The Fires in New Mexico
Last Friday, I went for a walk by Santa Fe Community College (SFCC) and saw the beginning of the Calf Canyon Fire. The smoke rising from the mountains provided a stark contrast to the bright blue skies. I stopped to take a picture. Today, I had planned to go for another walk but as I drove south on Saint Francis, the sky began to change from blue to brown and by the time I got to SFCC, the mountains were gone and the air was thick with smoke. I went back to the spot where I had taken the photo last week and took another one. In the second photo, the mountains have disappeared behind the smoke and as I walked back to my car, ash began to fall from the sky.
One of my earliest memories is of fire. I don't recall the details but a fire had broken out around our property in Palo Duro Canyon and because my dad had just plowed our tiny little field, the flames had skipped over us. I remember the crunch of the black grass and the stark difference between the brown dirt and the scorched brush.
Every year, we hold our breath and pray or hope for more rain. How many of us have looked up to see the clouds turn dark over the mountains with baited breath, whispering to ourselves, to the skies, please let the water fall? This week, I was meeting with a faculty member at New Mexico Highlands when rain began to fall. She jumped up from her chair and ran to the window. Who can resist that desire to see the first drops of rain; to smell the first dampness of the earth?
As I write this post, it is Friday afternoon and the smoke is starting to drift over my neighborhood. All of us in our manitos community are looking to the skies and asking for rain.
Click the link below for more information, resources and ways to help: