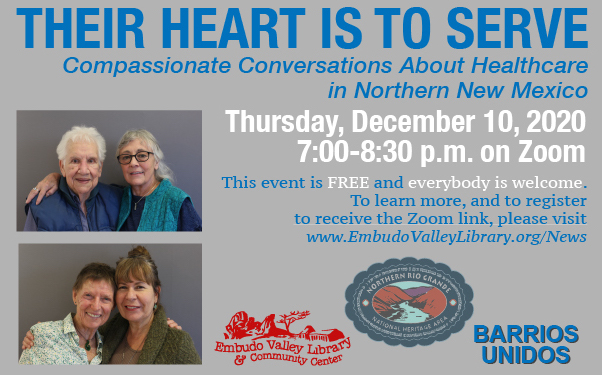 Zoom Event: "Their Heart is to Serve: Compassionate Conversations About Healthcare in Northern New Mexico." December 10, 2020, 7pm
Zoom Event: "Their Heart is to Serve: Compassionate Conversations About Healthcare in Northern New Mexico." December 10, 2020, 7pm
We are very pleased to share with you, word of this very timely upcoming Zoom listening event. This online multimedia project and event were produced by Manitos Project community site partner, Embudo Valley Library with the support of Manitos Project partner, Northern Rio Grande National Heritage Area and their partners StoryCorps and Barrios Unidos, and features stories from Manitos communities, Dixon and Chimayo.
This free listening event will take place via Zoom on Thursday, November 10th at 7pm. Please register at:
https://us02web.zoom.us/meeting/register/tZcsceioqTgqE9eUi7dHpH8UcB8WPK5Gfm74
The event press release describes the event better than I ever could, so here it is directly.
---
"THEIR HEART IS TO SERVE: COMPASSIONATE CONVERSATIONS ABOUT HEALTHCARE IN NORTHERN NEW MEXICO
When: 7pm, Thursday December 10.
How: Register via zoom HERE
"Quiere mas, juzga menos; love more, judge less" is how Gilberto Romero sums up his work in public health in Northern New Mexico over the last 30 years. He, together with 18 other individuals, recorded their experiences as public and community health workers, mothers, grandmothers, health care professionals, doulas, and activists in the series "Their Heart is to Serve: Compassionate Conversations about Healthcare in Northern New Mexico." The series is produced by Embudo Valley Library, with partners StoryCorps, Barrios Unidos, and Northern Rio Grande National Heritage Area, and will debut on Thursday December 10, 2020, via a zoom listening event. The interviews capture how a broad spectrum of community members work to improve public, community, and individual health, in both their personal and professional lives. The interviews feature heartfelt, honest, and love-filled first-person accounts of coping with addition and supporting recovery in their own families, and how public health workers and health care providers have been able to improve health care access and public health in front line service to rural communities. Interviewees hold out their hopes and visions for structural change in healthcare, witness what has made a difference in their communities, and describe what true community health is.
This oral history collection stems from the movie The Providers, by Laura Green and Anna Moot-Levin, which, with support from New Mexico PBS, was screened at Embudo Valley Library in 2018. Set against the backdrop of the physician shortage and opioid epidemic in rural America, The Providers follows three healthcare providers who work at El Centro Family Health, a group of clinics in Northern New Mexico that offer care to all who walk through the doors, regardless of ability to pay. As a result of this movie screening, StoryCorps, the national storytelling non-profit, recorded these health themed interviews in Dixon at Embudo Valley Library, and in Chimayo at Barrios Unidos."
---
The oral history collection is already available online at the always excellent and illuminating Embudo Valley Library website:
https://www.embudovalleylibrary.org/storycorps-healthcare
For additional information:
Embudo Valley Library and Community Center
Contact: Felicity Fonseca/Minna Santos
librarian@embudovalleylibrary.org
505-579-9181
Please share with anyone and everyone you think might be interested into this insight into the history of Manitos healthcare or the history of Northern New Mexico. This is going to be a good one!