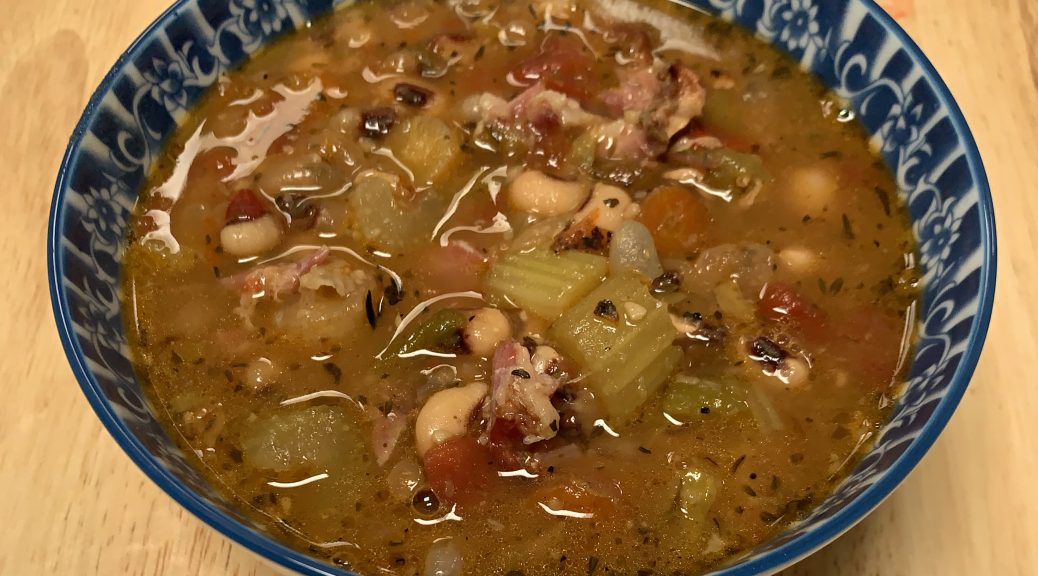 Food Heritage: Greeting a Lucky New Year
Food Heritage: Greeting a Lucky New Year
As a child of diaspora, my cultural linkages are often broken in ways that fly under the radar. A person can get quite used to cultural magpie behavior to fill voids in identity formation. A certain cosmopolitanism sets in and become a way of life, until challenged out of the blue on unlikely occasions.
This New Year's Morning as I conscientiously set about making black-eyed peas for luck in the coming New Year, I texted my prima to see if she needed any freshly made black-eyed pea soup for the family. She kindly informed me that, black-eyed peas were not held in delicious esteem in her home, but that she had the luck part covered with beans and chile.
It had not occurred to me that perhaps I had been going about my New Year's luck all wrong as a Manito, all these years. At some point in the distant past, I had been introduced to black-eyed peas for New Year's by a friend with roots in the South and simply gone with it in my magpie way.
I decided to check in with Manito Facebook to see what other Manitos had to say on the subject of New Year's luck and was not disappointed with the diversity of strongly held opinions on the subject. Pretty much every Manito food tradition was represented including favorites like enchiladas and Frito pie, but there were some strong universal contenders.
Posole is arguably considered the most potent New Year's luck dish, followed closely by the beans and chile that my prima favors, sometimes with chicos.
For some, bizcochitos start the year off right. (What don't they start off right?)
Puddings in the form of Panocha, an almost forgotten traditional sweetened sprouted grain pudding, adopted from Native American food traditions into Lenten practice by early Manitos, and Natillas, a creamy custard of Spanish origin, which Manitos settlers appear to have traded back to the pueblos in return, made several appearances.
As did a shot of tequila.
Tamales were there, but since many families have been eating tamales non-stop for Christmas week, a few people said 'enough with the tamales!', and looked to Posole as a welcome break.
The Allsup's burrito got several surprise nods, although I suspect that the relatively recent adoption of the Allsup's burrito as a New Year's tradition has more to do with its reputation as a legendary hangover cure, than anything else.
Some of these options point to certain universalities amongst New Year's food traditions around the globe.
Pork as included in most Posole recipes, is a popular option as evidenced in the ham in many black-eyed pea recipes, the Germanic tradition of Sauerkraut and Pork, and the interlinked Mexican tradition of Menudo.
One Facebook participant offered this following reason for this:
"The brave pig roots forward, while the cowardly chicken scratches backward."
So, you might want to make those enchilada's with pork chile verde instead of chicken, at least for today.
Another commonality is the humility of the dishes. Most traditional New Year's dishes represent a humbleness of origin or restraint of luxury, in contrast to the sumptuous richness of the Christmas feast. Hence, the persistence of beans or simple but tasty puddings like panocha, whose role in Lenten austerity tells a story of this impulse.
Luckily for me, my version of black-eyed peas already has a healthy non-traditional renegade dose of proper New Mexico green chile, so I think my magpie luck and my Manito luck are both well-covered for 2021.
Maybe next year, I'll go straight up Posole with a side of bizcochitos just to be safe, because really, who doesn't need an additional reason to eat Posole and Bizcochitos?
If you have any Manito New Year's dishes I missed, please tell us in the comments.
Happy New Year, Manitos and Manitas!